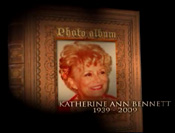 Athens, GA
Wednesday, December 2, 2009
(Click image to view Video Memorial)
Katherine Bennett, author of The Naked Soul passed away on Wednesday, December 2, 2009.
She is survived by her husband, Preston Bennett; sons, Kerry Wolfe and his wife, Nan of Lawrenceville, Georgia, Michael Wolfe and his wife, Kathryn of Daphne, Alabama; sister, Brenda Betar of Alexandria, Louisiana; and four grandchildren.
A funeral mass will be celebrated on Monday, December 7, 2009 at 10 a.m. at St. Lawrence Catholic Church with Father Al Jowdy as celebrant. Interment will be at Gwinnett Memorial Park in Lawrenceville, GA. The family will receive friends on Sunday from 5 p.m. until 8 p.m. at Wages & Sons Gwinnett Chapel, 1031 Lawrenceville Highway, Lawrenceville, Georgia, 770-277-455.